Keynote Speakers
<![if !vml]><![endif]> <![if !vml]><![endif]> <![if !vml]><![endif]>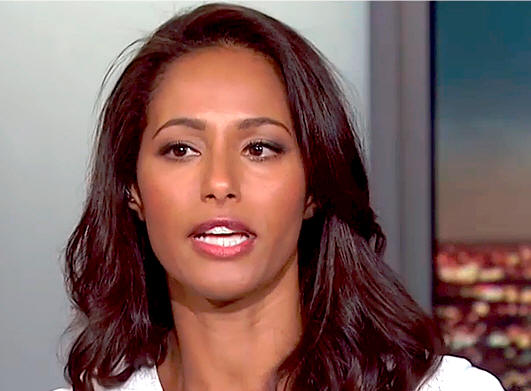 Rula Jebreal is an award-winning journalist, author, and foreign policy analyst.
Her first novel, Miral, sold two million copies and was made into a major motion picture.
She frequently appears on CNN, HBO and Bloomberg News, and has contributed op-eds to The New York Times, The Washington Post, Foreign Policy, The Guardian, Newsweek, The Nation, and San Jose Mercury News.
Jebreal has anchored multiple television shows in both Italy and Egypt, and reports extensively from across the Middle East, Europe, and the U.S., frequently challenging Islamophobic rhetoric and media on its coverage of the Israeli-Palestinian conflict.
Jebreal will be discussing why lumping all Muslims into one monolithic, extremist-linked bracket is actually a victory for ISIS, as well as how and why the media abrogates its responsibility to cover all sides of the Israeli-Palestinian conflict.
<![if !vml]><![endif]>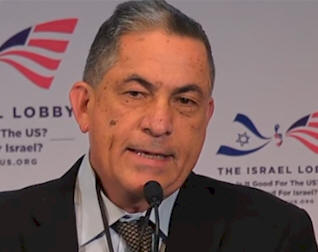 Gideon Levy is a journalist for the Israeli newspaper Haaretz, and is widely considered the "dean" of Israeli journalism.
His columns about politics, money, how Israel's military occupation is changing Israeli society and about U.S.-Israel relations are widely read and discussed around the world.
Video of Levy's presentation at last year's conference has gone viral and received over 200,000 views.
Levy will outline what politicians, members of Congress and media elites visiting Israel should know about the situation on the ground—as opposed to what they are told on hundreds of junkets organized by the American Israel Public Affairs Committee (AIPAC).
Speakers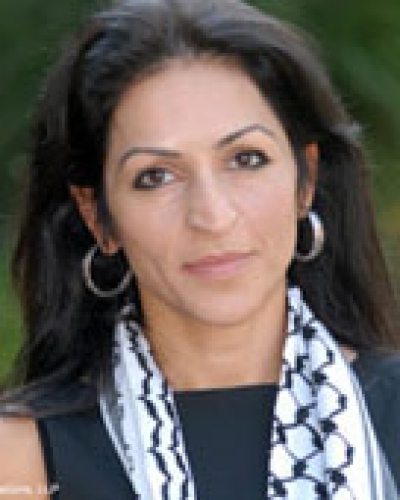 Susan Abulhawa is a Palestinian novelist, poet, and essayist. Her debut novel, Mornings in Jenin (Bloomsbury, 2010), became an instant international bestseller and was translated into 27 languages. Her most recent novel, The Blue Between Sky and Water (Bloomsbury, 2015), has likewise been translated into 26 languages thus far. Abulhawa's first poetry collection, My Voice Sought The Wind (Just World Books), was published in 2013, and she has contributed to several anthologies.

Her essays and political commentary have appeared in print, radio and digital media internationally.

In 2001, before she left a career in neuroscience research to become a full-time writer, Abulhawa founded Playgrounds for Palestine, a children's organization dedicated to upholding the Right to Play for Palestinian children.

PfP celebrates its 15th anniversary this year.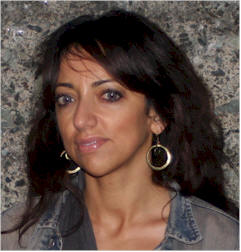 Huwaida Arraf is a Palestinian-American lawyer and human rights advocate. As the daughter of an Israeli-born Palestinian, she is also a citizen of Israel. Arraf received her Bachelor's degree from the University of Michigan, and her Juris Doctor from the American University Washington College of Law, where she focused on international human rights and humanitarian law. In 2001 Arraf co-founded the International Solidarity Movement (ISM), which has twice been nominated for the Nobel Peace Prize. She is co-editor of the book Peace Under Fire: Israel, Palestine, and the International Solidarity Movement.
Arraf was one of the initiators and organizers of a delegation of American lawyers to Gaza in February 2009, and co-authored the report on their findings, Onslaught: Israel's Attack on Gaza and the Rule of Law. She is the former chairperson of the Free Gaza Movement, and from August to December 2008 led five successful sea voyages to the Gaza Strip to confront and challenge Israel's illegal blockade. Arraf was one of the primary organizers of the Gaza Freedom Flotilla and was traveling with it when Israeli forces lethally attacked it on May 31, 2010. In 2016 Arraf joined other plaintiffs in U.S. federal court suing the Israeli agencies for their roles in the 2010 attack on Challenger I.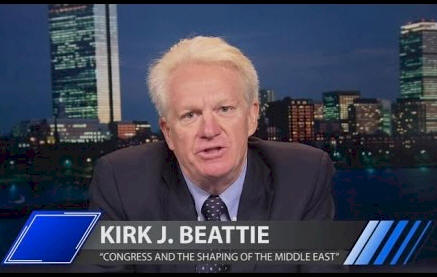 Kirk James Beattie is the author of Congress and the Shaping of the Middle East as well as two books on Egyptian politics: Egypt During the Nasser Years and Egypt During the Sadat Years.

Beattie is a professor at Simmons College in the Political Science and International Relations Department, specializing in comparative politics with regional expertise in Middle East and West European politics.

Beattie has taught at Harvard, Wellesley, the Fletcher School of Law and Diplomacy and the University of Michigan.

He is a recipient of numerous national scholarships including a Fulbright grant, a Fulbright-Hays grant, an International Rotary Foundation Fellowship, an American Research Center in Egypt grant, and a Center for Arabic Study Abroad fellowship.

He lives in Brookline, Massachusetts, and in Wisconsin.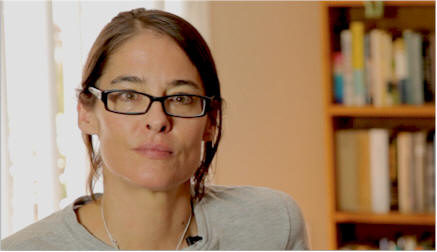 Catherine Jordan is the award-winning producer and co-editor of Valentino's Ghost: Why We Hate Arabs. A journalist for 14 years, she spent five years working with director Michael Singh to shape the film's structure, narrative and aesthetics, as well as researching the storylines and current events which form the narrative thread for their documentary. Jordan was an editor and staff writer at the Los Angeles Times, and a correspondent for The Daily Telegraph in London, The Hollywood Reporter, Los Angeles Magazine, Condé Nast's Tatler (London) and The New Scotsman (UK). She spent three years as a researcher at Hollywood's Paramount Pictures studio, where her work included research and writing on the genres and highlights in Paramount's theatrical library of 2,500 films. Jordan was honored at the MPAC 2014 Media Awards as a "Voice of Courage and Conscience" for her role in producing Valentino's Ghost.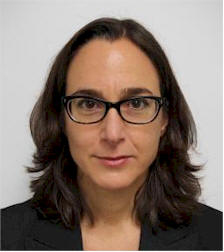 Maria LaHood is a Deputy Legal Director at the Center for Constitutional Rights, with expertise in constitutional rights and international human rights. She works to defend the constitutional rights of Palestinian human rights advocates in the United States in cases such as Davis v. Cox, defending Olympia Food Co-op board members for boycotting Israeli goods; Salaita v. Kennedy,representing Steven Salaita, who was terminated from a tenured position for tweets critical of Israel; and CCR v. DOD, seeking U.S. government records under the Freedom of Information Act (FOIA) regarding Israel's 2010 attack on the flotilla to Gaza. She works closely with Palestine Legal to support students and others whose speech is being suppressed for their Palestine advocacy around the country. She also works on the Right to Heal initiative with Iraqi civil society and Iraq Veterans seeking accountability for the lasting health effects of the Iraq war.

Her past work at CCR includes cases against United States officials, Arar v. Ashcroft, Al-Aulaqi v. Obama, and Al-Aulaqi v. Panetta; against foreign government officials, Matar v. Dichter and Belhas v. Ya'alon; and against corporations, Wiwa v. Royal Dutch/Shell and Corrie v. Caterpillar. Prior to coming to the Center for Constitutional Rights she advocated on behalf of affordable housing and civil rights in the San Francisco Bay Area, and she graduated from the University of Michigan Law School. She was named a 2010 Public Justice Trial Lawyer of the Year Finalist. From the Center for Constitutional Rights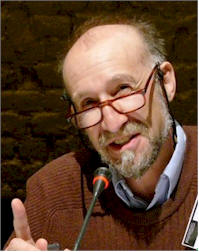 Jim Lobe served as the chief of the Washington bureau of Inter Press Service (IPS) from 1980 to 1985 and again from 1989 until 2015. He has managed and produced LobeLog, a blog focused primarily on U.S. policy toward the Middle East, since 2007.

LobeLog, which features contributions by experts on the Middle East and foreign policy, received the Arthur Ross Award for Distinguished Reporting and Analysis of Foreign Affairs from the American Academy of Diplomacy in 2015.

Throughout much of his journalistic career, Lobe has followed the influence of neoconservatives on U.S. foreign policy and has lectured on the subject at various colleges and universities in the United States, as well as the Institute of American Affairs in Beijing, the Graduate Institute of International Studies in Geneva, and Sciences Pos in Reims, among other institutions overseas.

In 2004, he acted as defense attorney for the Project for the New American Century at the Brussels Tribunal in Brussels. He is also an associate fellow at the Institute for Policy Studies.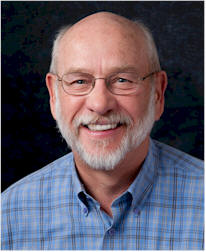 Roger J. Mattson is the author of the recently published book Stealing the Atom Bomb: How Denial and Deception Armed Israel.

Dr. Mattson has experience in engineering and management with Sandia National Laboratory, the Atomic Energy Commission, the Nuclear Regulatory Commission (NRC), the Environmental Protection Agency and several nuclear safety and security consultancies.

He was an adviser to the NRC commissioners on policy issues such as safety goals, risk assessment, nuclear safeguards, and Three Mile Island reforms. After leaving government service in 1984, he led two private companies that provided safety and security services for U.S. nuclear power plants, the Energy Department's nuclear facilities, and several foreign users of nuclear power. Following the Chernobyl accident in 1986, he helped develop IAEA's guidance on safety principles for the world's nuclear power plants. He oversaw nuclear safety consultancies in five foreign countries. He also served on the offsite safety committees for several nuclear power plants and several DOE nuclear facilities. In 2012, he was part of a team formed by the American Society of Mechanical Engineers to forge a new safety construct for nuclear power after the tragedy at Fukushima. He has participated in safety analysis and field reviews of nearly 150 nuclear facilities in the US, Europe, the former Soviet Union and the Far East, including the startup of the latest U.S. nuclear power plant in 2015.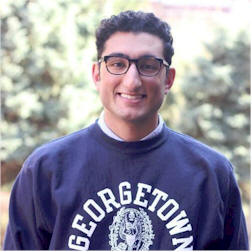 Tareq Radi is a Palestinian-American organizer based in Washington, DC.

He is currently the Public Affairs Coordinator at Georgetown University's Center for Contemporary Arab Studies. Under the umbrella of the Arab Studies Institute,

Radi is leading an initiative to mine historical and contemporary documents related to the Palestinian solidarity movement in the United States. The work will culminate in a series of databases aimed at studying the U.S.-based movement and offering researchers and advocates alike a critical resource.

Before that, he graduated with a B.S in Finance from George Mason University (GMU), where he was a founding member of GMU's Students Against Israeli Apartheid (SAIA).

He intends to pursue graduate school with hopes of developing and conducting research on resistance economies.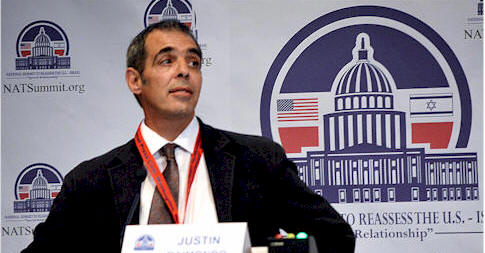 Justin Raimondo is an American author and the editorial director of Antiwar.com.

In addition to his thrice-weekly column for Antiwar.com, Raimondo is a regular contributor to The American Conservative and Chronicles magazines.

Raimondo's books include Reclaiming the American Right: The Lost Legacy of the Conservative Movement (Center for Libertarian Studies, 1993), reissued in 2008 with new introduction by George W. Carey by Intercollegiate Studies Institute: Into the Bosnian Quagmire: The Case Against U.S. Intervention in the Balkans (AFPAC, 1996); and Colin Powell and the Power Elite (America First Books, 1996).

Raimondo also wrote An Enemy of the State: The Life of Murray N. Rothbard, (Prometheus Books, July 2000).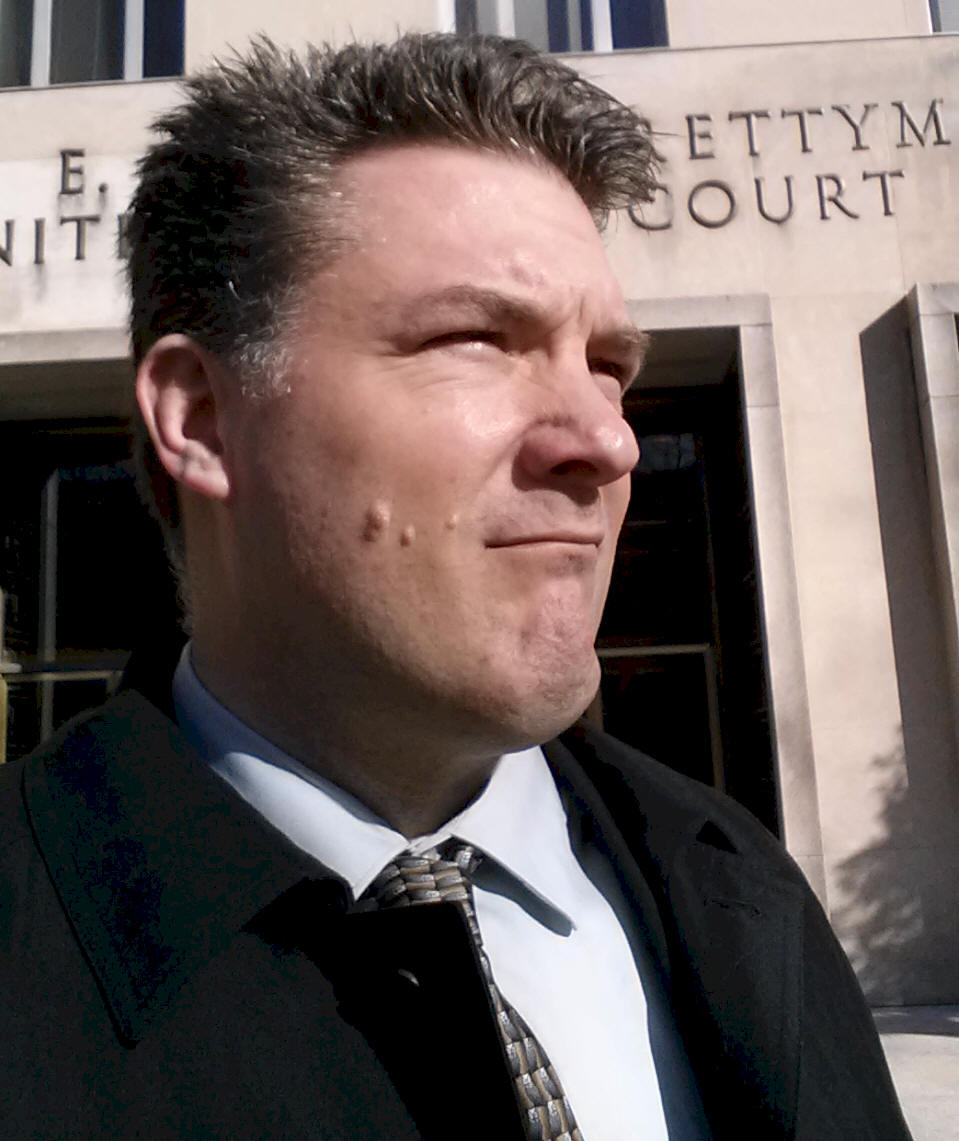 Grant F. Smith is the author of Big Israel: How Israel's Lobby Moves America, his eighth book about the Israel lobby.

Smith is the director of the Institute for Research: Middle Eastern Policy (IRmep), a nonprofit organization that studies U.S. Middle East policy formulation. In 2014, Smith sued the Department of Defense in federal court and won release of a detailed report, contracted in 1987, on the advanced state of Israel's nuclear weapons program. In 2015, Smith sued the Central Intelligence Agency and won release of 131 pages of formally classified information revealing its overseas agents obtained compelling evidence that Israel stole U.S. government-owned weapons-grade uranium in the 1960s to build its first atom bombs. The CIA's refusal to share this information thwarted two FBI investigations into the diversion. This is the subject of ongoing IRmep litigation.

In his 30 year professional career as a researcher, Smith has investigated public sector lobbying, financial services and global telecommunications industries, worked in 22countries assessing the impact of regulatory and trade regime changes, and managed multinational research teams.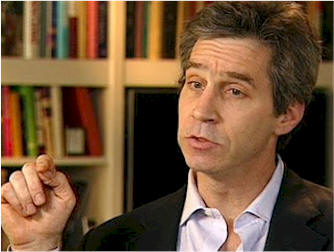 Philip Weiss is an American journalist who co-edits Mondoweiss, a news website devoted to covering American foreign policy in the Middle East, chiefly from a progressive Jewish perspective.

Weiss has written for the New York Times Magazine, Harper's Magazine, Esquire, and the New York Observer.

In 2006 he began writing a daily blog called Mondoweiss on The New York Observer website. In the spring of 2007 he started Mondoweiss as an independent blog because of 9/11, Iraq, Gaza, the Nakba and the struggling people of Israel and Palestine, with the aim of building a diverse community, with posts from many authors.

He co-edited The Goldstone Report: The Legacy of the Landmark Investigation of the Gaza Conflict (2011) with Adam Horowitz and Lizzy Ratner.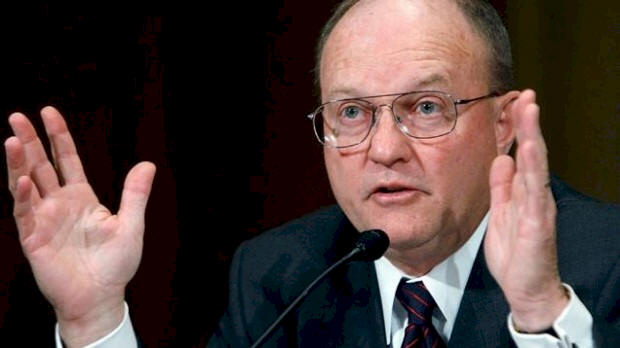 Col. Lawrence Wilkerson's last positions in government were as Secretary of State Colin Powell's Chief of Staff (2002-05), Associate Director of the State Department's Policy Planning staff under the directorship of Ambassador Richard N. Haass, and member of that staff responsible for East Asia and the Pacific, political-military and legislative affairs (2001-02).
Before serving at the State Department, Wilkerson served 31 years in the U.S. Army. During that time, he was a member of the faculty of the U.S. Naval War College (1987-1989), Special Assistant to General Powell when he was Chairman of the Joint Chiefs of Staff (1989-93), and Director and Deputy Director of the U.S. Marine Corps War College at Quantico, Virginia (1993-97). Wilkerson retired from active service in 1997 as a colonel, and began work as an adviser to General Powell. He has also taught national security affairs in the Honors Program at George Washington University. He is currently working on a book about the first George W. Bush administration. He currently is Distinguished Visiting Professor of Government and Public Policy at the College of William and Mary in Williamsburg, Virginia.
Moderators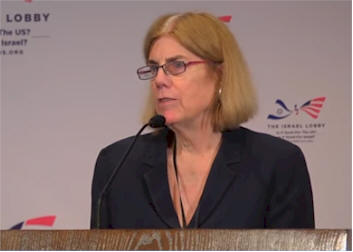 Janet McMahon is the managing editor at the Washington Report on Middle East Affairs.

She earned her B.A. in English at Reed College and has a graduate diploma in Middle East Studies from the American University in Cairo.

She is an expert on the Israel lobby and pro-Israel political action committees (PACs).

McMahon co-edited Seeing the Light: Personal Encounters With the Middle East and Islam, and Donald Neff's 50 Years of Israel, both compilations of feature articles from the Washington Report on Middle East Affairs.

She also edited Stealth Pacs: Lobbying Congress for Control of U.S. Middle East Policy by Richard H. Curtiss.

In addition to her editorial duties, she has written special reports on Israel and Palestine, and has contributed articles to special issues of the Washington Report on Iran, Tunisia, Cyprus and Libya.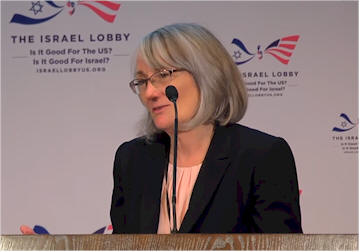 Delinda C. Hanley

Delinda Hanley is the executive director and news editor at the Washington Report on Middle East Affairs. Before joining the magazine in 1996, Hanley spent decades in the Middle East, studying in Lebanon, volunteering with the Peace Corps, and later working in Oman and Saudi Arabia.

From 1990 to 1996 Hanley worked as a researcher, editor and writer for Empire Press (now Weider History Group) and Sovereign Media.

Hanley writes for the Washington Report on an array of topics, including Muslim- and Arab-American politics and civil rights issues. Her articles have also been published in the Arab News, the Minaret, Islamic Horizons, Jewish Spectator and other publications.

She is the winner of the NAAJA 2011 Excellence in Journalism award for her dedication to accuracy and professionalism.

Grant F. Smith (profiled above)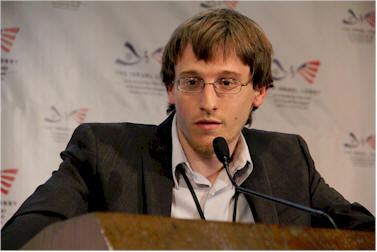 Dale Sprusansky

Dale Sprusansky is the assistant editor of the Washington Report on Middle East Affairs.

He reports on the U.S.-Israel relationship and its impact on the Palestinian people and the broader Middle East.

Sprusansky received his B.A. in Political Science from Stetson University in DeLand, FL.

He has lived in Egypt and traveled extensively throughout the region.